Market: Helsinki
Symbol: CGCBV
ISIN: FI0009013429
Industry: Industrial Goods & Services
Cargotec enables smarter cargo flow for a better everyday with its leading cargo handling solutions and services. Cargotec's business areas Kalmar, Hiab and MacGregor are pioneers in their fields. Through their unique position in ports, at sea and on roads, they optimise global cargo flows and create sustainable customer value.
Global presence with local services
Cargo traffic is one of the vital services that help keep our global society up and running. Millions of items, from raw materials to consumer products, are transported locally and between countries. Cargotec's global presence allows us to serve our customers both in mature markets and in growing economic areas.
Facts
Cargotec is a leading provider of cargo handling solutions
We operate in more than 100 countries
In 2017, our sales totalled EUR 3.2 billion
At the end of 2017, over 11,000 people worked at Cargotec
Share Data
| | |
| --- | --- |
| Currency | EUR |
| Previous Close | 42.58 |
| Change (%) | 0.00 |
| | |
| --- | --- |
| Volume | 105,101 |
| Number of Shares (mln) | 55 |
| Market Cap (mln) | 2,350 |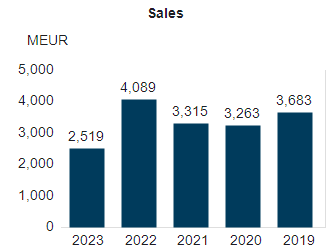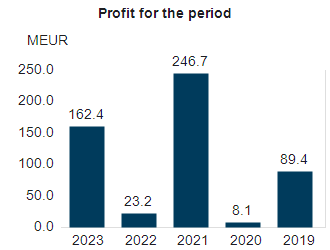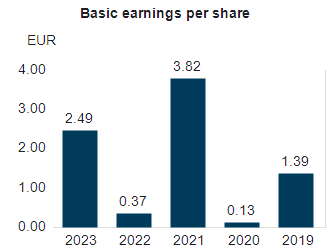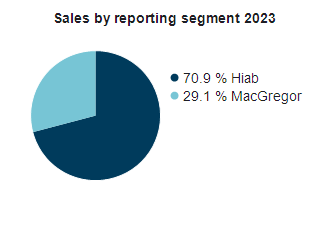 | Key figures | | | |
| --- | --- | --- | --- |
| (Figures in MEUR unless other mentioned) | 2017 | 2016 | 2015 |
| Orders received | 3,190 | 3,283 | 3,557 |
| Order book | 1,566 | 1,783 | 2,064 |
| Sales | 3,250 | 3,514 | 3,729 |
| Operating profit, excl. restructuring costs | 258.6 | 250.2 | 230.7 |
| Operating profit, excl. restructuring costs, % | 8.0 | 7.1 | 6.2 |
| Net income for the period | 132.7 | 125.3 | 142.9 |
| Basic earnings per share, EUR | 2.05 | 1.95 | 2.21 |
| Cash flow from operating activities | 253 | 373 | 315 |
| Net working capital | 118 | 57 | 151 |
| Total equity/total assets, % (YTD) | 41.4 | 39.1 | 39.8 |
| Interest-bearing net debt | 472 | 503 | 622 |
| Interest-bearing liabilities | 788 | 782 | 803 |
| Gearing, % | 33.1 | 36.0 | 46.4 |
| Equity/share, EUR | 22.06 | 21.65 | 20.73 |
| Return on equity (ROE), % (YTD) | 9.4 | 9.1 | 11.2 |
| Return on capital employed (ROCE), % (YTD) | 9.6 | 8.8 | 9.8 |
| Personnel, average (YTD) | 11,128 | 11,193 | 10,772 |
| Market capitalisation (class B shares) | 2,595 | 2,355 | 1,900 |