Market: Madrid
Symbol: LRE
ISIN: ES0105015012
Industry: Real Estate
Company presentation
LAR ESPAÑA began to operate as a listed company on the Spanish Stock Exchanges on 5 March 2014, as a SOCIMI (Spanish REIT) with the aspiration to become a reference for asset management in Europe. Lar España's aim is to generate high returns for its shareholders via its business strategy of owning, operating and renting its Real Estate portfolio, which is mainly focused on Commercial Property Assets in Spain.

On 4th June 2015, Lar España Real Estate SOCIMI was included on the FTSA EPRA/NAREIT Global Index, a select global index designed to showcase the general trends of listed Real Estate companies around the world.

On 24th September 2015, the Company received the 'Gold Award' from the European Public Real Estate Association (EPRA) in recognition of the quality of the information provided by Lar España within the Index standards framework. It has become the first Spanish SOCIMI to receive this award, the most prestigious in the real estate sector.
Lar España is investing following a value added approach based on an active management strategy. It is externally managed by Grupo Lar, a family owned, Spanish private Real Estate developer, Investor and Asset Manager with a 40-year track record of international experience. Grupo Lar's Platform in Spain amounts to 157 employees out of which more than half are dedicated to Lar España.
The manager is a Spanish company, which combines its investment and development skills with an extended experience in property asset management. Grupo Lar is a dynamic and flexible firm with a great understanding of Spanish and international markets, having successfully confronted the various growth and crises cycles of the industry. Grupo Lar is present in 7 countries with on-shore teams in: Spain, Poland, Romania, Mexico, Brazil, Colombia and Peru. Currently, Grupo Lar has a wide range of products and markets under its portfolio allowing it to cater for the different demands the market may present it with. The company is active in primary residence, secondary residence, business parks and offices, industrial parks, retail parks.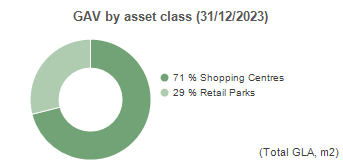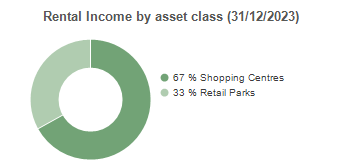 Key figures

Financial Indicators, In thousands of Euros


FY2018

FY2017

Income Statement
Revenue


77,841

77,600

EBITDA


54,465

46,904

EBITDA margin


70%

60%

EBIT

124,629

148,447

Net Profit


129,308

135,606

Balance Sheet
Total Assets

1,681,603

1,554,352

Equity

1,008,498

918,219

Cash Flows
Cash flows from (used in) operating activities

18,756

48,688

Cash flows used in investing activities

139,536

-129,142

Cash flows from financing activities

-15,663

97,945

Cash and cash equivalents at the end of the period

191,328

45,617

Other Financial Indicators

FY2018

FY2017

Working Capital (€'000)

223,524

115,198

Liquidity Ratio

4.3

2.1

Solvency Ratio

1.2

1.1

Operating indicators

FY2018

FY2017

Total Gross Lettable Area (GLA) (m²)
EPRA Indicators

31/12/2018
(Euro Thousands)/%

31/12/2017
(Euro Thousands)/%

Adjusted EPRA Earnings

29,240

36,579

EPRA NAV

1,036,683

951,489

EPRA NAV per Share

11.14*

10.27*

EPRA NNAV

1,013,644

936,687

EPRA Net Initial Yield (NIY)

5.2%

5.5%

EPRA "topped-up" NIY

5.3%

5.6%

EPRA Vacancy Rate

6.8%

4.9%

EPRA Cost ratio pre performance fee (including direct vacancy costs)

27.5**

29.1**

EPRA Cost ratio pre performance fee (excluding direct vacancy costs)

24.0**

25.5**

Share information (€)

FY2018

FY2017

Price at the end of the period

7.45

8.89

Performance during the period (%)

-16.2%

26.2%

Maximum price for the period

9.87

8.90

Minimum price for the period

7.27

6.83

Average price for the period

8.91

7.87
Consolidated statements and under IFRS reporting standards
* 2017: When analyzing this measure it is important to take into account the shareholders remuneration amounting 30,000 thousand euros in Q2 2017 (0.33€/share), relating to 2016 financial year. 2018: When analyzing this measure it is important to take into account the dividend paid in Q2 2018 (0.49€/share).
* Excluding costs directly related to development projects, as at 31 December 2017, the ratios would be 26.0% and 22.4% respectively. 2018: Ratio calculated considering recurring expenses
5 Independent Directors




Nomination and Remuneration Committee



Mr. José Luis del Valle Dobaldo (Chairman)

Mr. Roger Maxwell Cooke (Chairman)

Mr. Alec Emmott

Mr. Alec Emmott (Member)
Mr. Roger Maxwell Cooke

Mr. Miguel Pereda Espeso (Member)
Ms Isabel Aguilera Navarro
Mr Laurent Luccioni (Member)
Ms Leticia Iglesias Herraiz
Mr Juan Gómez-Acebo Sáenz de Heredia (Secretary)

Non-Independent Director

Audit and Control Committee



Mr. Miguel Pereda Espeso
Ms Leticia Iglesias Herraiz (Chairwoman)
Mr Laurent Luccioni
Mr José Luis del Valle Doblado (Member)
Ms Isabel Aguilera Navarro (Member)

Secretary of the Board

Mr. Juan Gómez-Acebo Sáenz de Heredia (Secretary)

Juan Gómez-Acebo
Susana Guerrero