&nbsp&nbspMarket: Kuwait
Symbol: GINS
ISIN: KW0EQ0300420
Industry: Insurance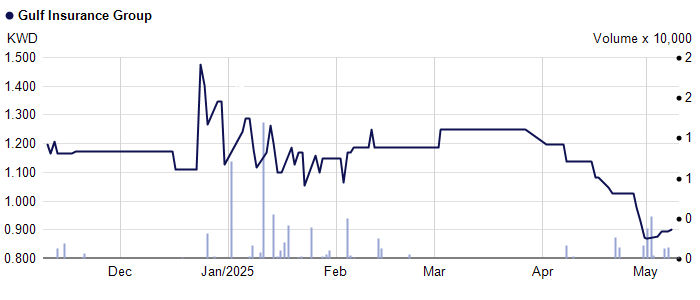 | | |
| --- | --- |
| Currency | KWD |
| Previous Close | 0.600 |
| Change (%) | -6.25 |
| Par Value/Share | 100 Fils |
| | |
| --- | --- |
| Volume | 111500 |
| Number of Shares (Mn) | 187.04 |
| Market Cap (KWD Mn) | 112.22 |
| | |
&nbspCompany presentation
Gulf Insurance was established in 1962.
It is a public shareholding company listed on the Kuwait Stock Exchange and a consistent market leader in Kuwait in terms of premiums written.
The Group is amongst the largest and most diversified insurance groups in the Middle East and North Africa region.
Gulf Insurance Group is one of the leading private insurers (By Gross Premium Written) with a strong competitive market position in Kuwait, Jordan, Bahrain and Egypt.
Furthermore, the Group has operations in Syria, Iraq, Lebanon, Saudi Arabia, Algeria,Turkey and the United Arab Emirates.
The Group's both revenue and earnings are well diversified geographically.
| | | | |
| --- | --- | --- | --- |
| Financial Highlights (KD Million) | 2015 | 2016 | 2017 |
| Gross Premiums Written | 185.9 | 213.2 | 304.8 |
| Net Premiums Written | 98.3 | 104.1 | 134.6 |
| Retention Ratio | 53% | 49% | 44% |
| Net Underwritting Income | 12.3 | 13.4 | 8.3 |
| Attributable Income to GIG | 14.1 | 12.0 | 10.3 |
| Shareholders' Equity | 89.6 | 82.3 | 84.5 |
| Total Consolidated Assets | 368.4 | 375.9 | 494.1 |
| Return on Consolidated Assets (ROA) | 4% | 4% | 2% |
| Return on Equity | 16% | 15% | 12% |
| Net Technical Reserves | 112.7 | 106.4 | 123.4 |
| Total Investment & Cash | 214.7 | 218.7 | 239.8 |
| Return on Investments | 6% | 5% | 5% |
| Profitability Ratio | 6.62% | 6.31% | 2.71% |
| U/W Leverage | 89% | 102% | 128% |